Welcome again everyone, to
WINDOW VIEWS.
The house below certainly shows off all sorts of
windows
and architectural styles. It's called in my neighborhood a
McMANSION.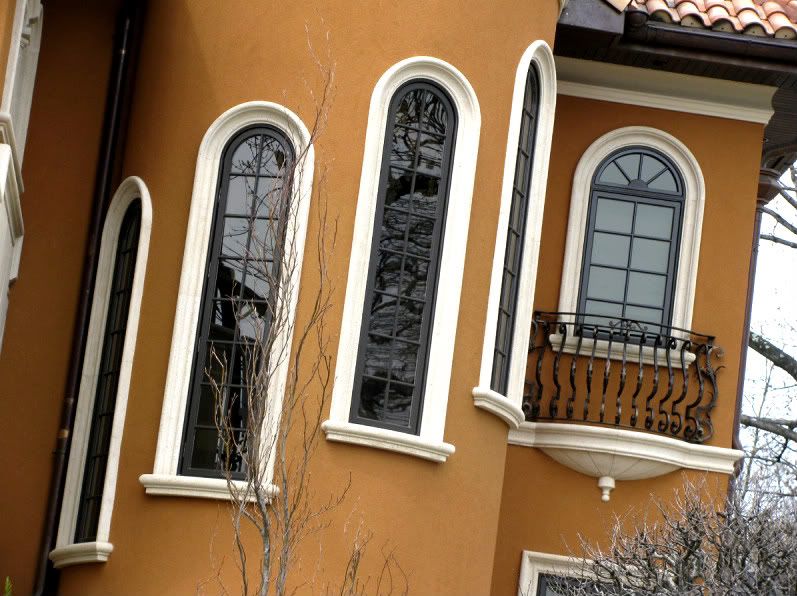 So let me tell you a little bit about
McMansion
s.





McMansion

is a term used to describe a particular type of housing that is constructed in an assembly line fashion reminiscent of food production at McDonald's fast food restaurants. The term is one of many McWords.

A McMansion often denotes a home with a larger footprint than a median home, an indistinct architectural style similar to others nearby, and is often located in a newer, larger subdivision. On a singular level, one can also replace an existing, smaller structure in an older neighborhood, often referred to as a teardown.
A McMansion is a house with a floor area commonly over 3,000 square feet in size, often on a small lot (the house itself often covering a larger portion of the land than the yard in a more conventional design) and typically built in homogeneous communities that are often produced by a developer.

Although they are generally large homes, they are mass produced and are not of the caliber of a mansion. Their cost places them in the purchasing range of the upper middle class segment of the population.
The large, numerous windows that are sometimes used in the great room can result in buildings that are much more expensive to cool and heat, especially if the house has been designed without consideration for its orientation relative to seasonal sun paths or without proper insulation. Large rooms, especially those with high ceilings, are frequently
more expensive to heat.

There is good news though
this article
says the McMansion trend is slowing...


Hope you enjoyed this

"

Window Views"

post. Don't forget to post your own and then come here and sign Mr. Linky and leave a comment. Then go visit other participants. We all like visitors, right?